Working out and stretching at home is a convenient, hassle free way of maintaining or building strength and flexibility, either while you can't get to a studio or between your lessons.
One of the best benefits of working out at home is that you need minimal equipment. You don't even need any equipment at all! But having a few key pieces will make your workouts, stretching and recovery sessions much easier and more effective.
My absolute essentials are:
A yoga mat is great for providing your body with some cushioning and protection from standing or laying on a hard wooden floor or carpet. A good yoga mat will also not become slippery when you sweat, which will protect your flooring and prevent you from sliding! If you're outside, using a yoga mat means you don't need to worry about getting dirty by laying directly on the ground. A few months ago I upgraded my nearly 10 year old yoga mat to a Liforme mat and I adore it! There are so many yoga mats on the market though to suit any budget.
Resistance Band
I use a resistance band for everything! I use them at home, at the gym, as an aid for teaching aerial, in pilates classes, while I'm at my desk writing this blog post etc. They are such a versatile, useful and inexpensive piece of kit, and they take up barely any space! A resistance band adds resistance to your movement, making it more intense. Resistance bands are available as either a single length, a short loop or a long loop, and they come in various degrees of strength. They all work well for different things, if you don't want to buy different styles, the best one to purchase is a single length, as you can tie it into a loop if you need. I have included links to the resistance bands that I personally use, but there are so many on the market! Below is a grip strength exercise and a toe point exercise you can do using a resistance band.
This handy piece of equipment is a sure fire way to improving your grip strength! Good grip strength is so important for aerial arts! Most movements we make while on the aerial apparatus involve gripping with our hands. Grip strength is vital from a safety aspect, as we need enough strength to be able to exit moves and descend to the floor, even after a tiring combo! Good grip strength will enable you to hold for longer, meaning progression will be easier.
Using a wrist trainer is a great way to maintain strength while you're away from the studio and unable to practise for a while. If you only have the opportunity to train in the air once a week or so, adding additional grip strength exercises into your routine will improve your grip strength, which will make your training/lessons easier. You'll feel stronger and more stable on the apparatus, so you can focus on progressing! Improving grip strength gradually by using a wrist trainer at home will help prevent injury, as muscles and tendons won't suddenly be overworked. It can also help rehabilitate injuries as it is 100% non-impact, it drives blood flow throughout the limb which promotes faster recovery when compared with leaving the limb completely sedentary.
The Powerball Sports Gyro 250hz Wrist Exerciser works by creating dynamic force as you make rotations of your wrist. It sounds easy but once you get the hang of it, it will start to burn after seconds! When you buy this from Firetoys, you can use my discount code uniqueaerialists to save 10%.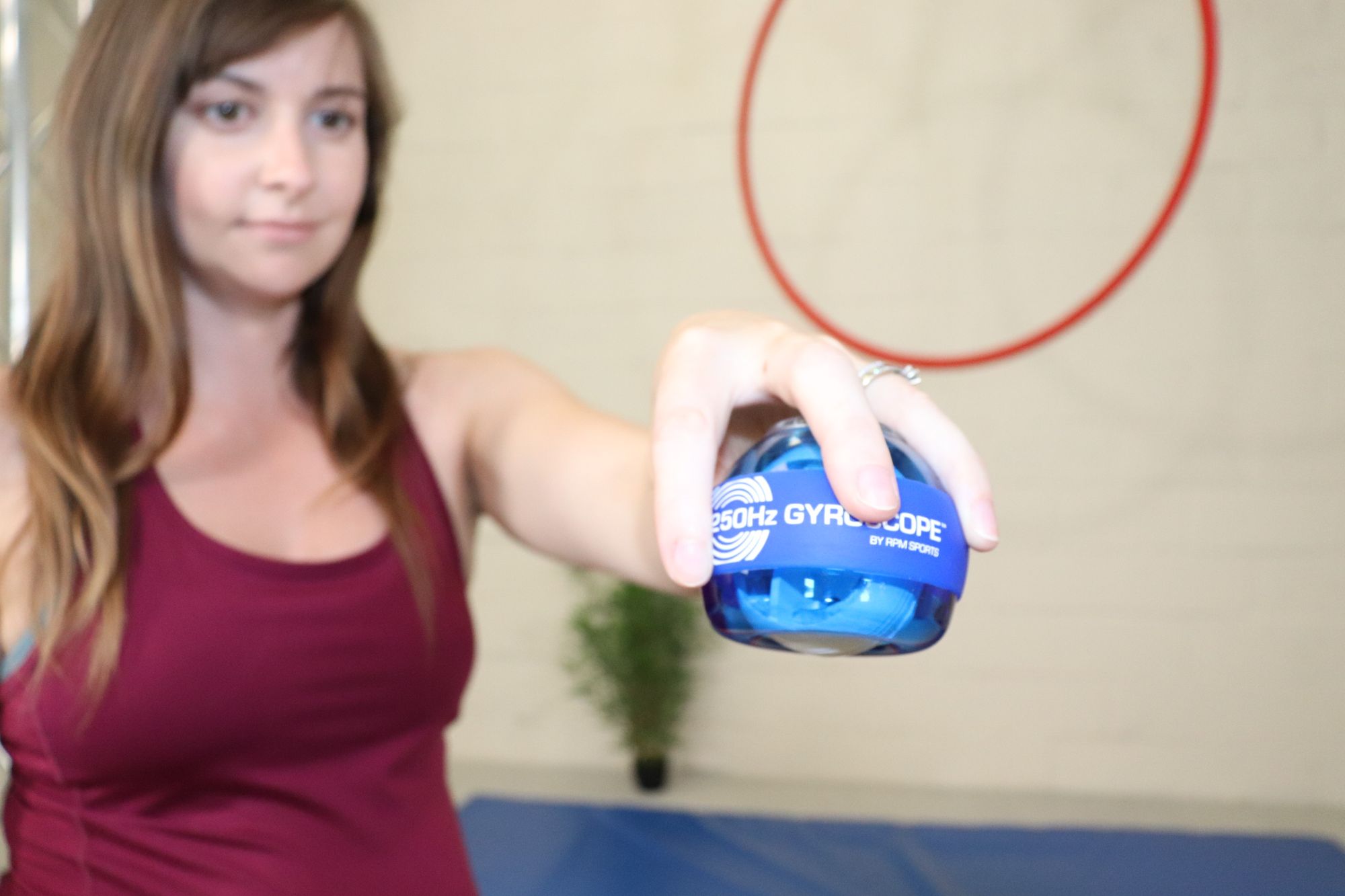 A stability ball is a great piece of equipment for core workouts, balance work and practising handstands! The below is an old Stability Ball Workout I filmed a few years ago, I cringe so much watching these old videos but the workout is really effective and I'm currently 8 months pregnant so can't refilm it! I have linked to the stability ball that I use but you can buy them from any sports shop!
Yoga blocks are fantastic stretching aids. You can use yoga blocks to hold some of your weight to build strength for more stable flexibility and improve alignment. Or you can use them to add elevation to get deeper into stretches. You can also use yoga blocks in this hip flexor workout!
There are so many benefits of massage between or after training sessions. Massage promotes circulation which reduces inflammation and muscle soreness. This in turn aids flexibility. And it just feels amazing! A Massage Peanut is a great massage tool to have at home. It sits either side of your spine to relieve tension down your back and increase thoracic mobility. Due to it's unique shape, a Massage Peanut is even effective in relieving neck tension and headaches! You can also use it to roll out your forearms, shoulders, triceps and feet, to help release sore points. It's shape makes it easier to control than a ball!
The Massage Peanut I use from Firetoys is made from cork, which is the perfect level of grippiness and bounce. Cork is one of the most renewable materials out there, which is a massive plus!
If you buy a Firetoys or Prodigy aerial hoop or aerial silks, you can add this Massage Peanut to your order to receive it for free!
As above, there are so many benefits of massage between or after training sessions. Massage promotes circulation which reduces inflammation and muscle soreness. This in turn aids flexibility. And it just feels amazing! A foam roller is a great massage tool to have at home. It is more suitable to use on your big muscles eg legs and back, whereas the massage peanut is more effective on your smaller muscles or targeting specific areas. There are loads of ways to roll out your muscles using a foam roller and loads of different foam rollers available! I prefer to use a bumpy foam roller.
Do you have any other pieces of equipment you love to use when you workout or stretch at home? xx