Let's be honest, a pole dancer gym bag can be so much more interesting than a gym goer gym bag! Ours are more likely to contain glitter than sweat bands! Here are the things that are always in my pole bag . . . . .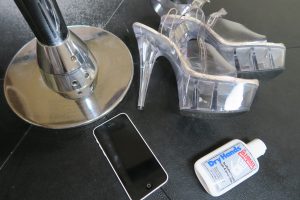 Short shorts
If you're doing much more than dancing then shorts are a must, the shorter the better! For some moves you just need that bum grip!
Grip aid
Some polers apply grip before they start and frequently throughout their practise session, some don't use it at all. I prefer to not use it but I do have a selection that I take with me to the studio just in case I have a slippy day or there's a move that's making me nervous! There're so many different grip aids that if you do struggle with slipping there will be one that helps, you might just have to try a few to find the right one for you!
Notebook
I always have a notebook with me when I'm training so I can write down any combinations I think of, look over older moves I've been working on and write routines. It really helps me to focus and plan my session so I get the most out of it.
Heels
Even if you do pole purely for fitness, it's good to embrace to sexy side sometimes 😉 some of the stripper style shoes are so beautiful, they elongate your legs and the added weight does wonders for your improving your strength.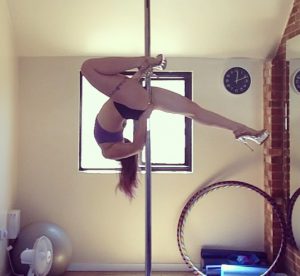 Knee pads
Not an essential for everyone but if you're a floor work queen you'll definitely want to pack these to protect your knees from those hard floors!
Music
If I have good music on I instantly feel like Beyoncé, flow comes so much more naturally, my body just wants to dance and I've got more energy to bust out some tougher moves.
Phone
All you need for all those saved pictures/videos or perfect to look through Instagram/Pinterest/YouTube/Facebook for some quick inspiration, just try not to get too distracted!
Hair tie
Big, flicky hair on the pole looks amazing, sweaty hair getting in your eyes, not so much! If I'm training tricks then I'll usually train with my hair up and just take it down for pictures (we all do this, right?!).
Do you have anything else you have to take to your pole lesson? You might also like 10 Beginner Pole Moves xx